and the winner is...
The San Francisco Chronicle Wine Competition results are in and all five of our entries were presented with awards!
2014 Belle Nipoti won a Double Gold
2013 Cooper Barbera won a Silver
2013 DeWitt Barbera won a Silver
2013 Syrah won a Silver
2012 Sangiovese won a Bronze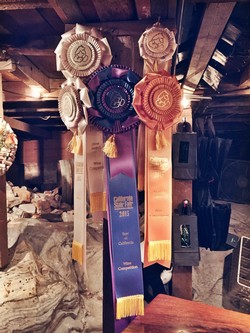 California State Fair Results
2013 Sorprendere won a Double Gold, Best of California, Best of Class of Region for a red blend
2014Belle Nipoti (rose) won a Silver and Best of Class of Region
2013 Cooper Barbera won a Silver
2013 DeWitt Barbera won a Bronze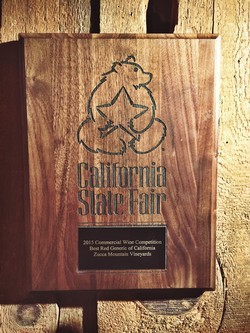 SOLD OUT!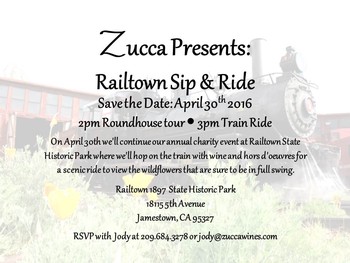 On April 30th, 2016 we will continue our annual fundraising charity event at Railtown 1897 State Historic Park where we will hop on the train for a scenic ride to view the wildflowers that are sure to be in full swing. This year we introduce our first after wine party with live music, hors d'oeuvre and of course, wine!
For those of you who have not been to Railtown or are not familiar with the details, steam train #3 is the only continuously operating steam train left in the country and they have the oldest authentic roundhouse in the west. It has been featured in most western movies and television shows that have a train.....and its historical significance is huge. Check out this promo video to watch the steam train #3 in action and join us on April 30th to experience it yourself!
"Your 6-mile, 45-minute roundtrip train ride will take you past the water tower from "Petticoat Junction," and transport you from the backyards of Jamestown to the rugged hillsides of California's Mother Lode country. At the end of the line (Rock Spur), your train will pause as the locomotive uncouples, "runs around" your train on a side track, then re-couples to the train's opposite end for the return trip to Jamestown." - Railtown 1897
For more information please contact Jody at 209-684-3278 or jody@zuccawines.com.