Wine club pick up party!
Join us for our Wine Club Pick Up Party on Saturday, September 13th from 5-8pm during Zucca After Hours in the wine garden, 431 Main Street! We will feature one free flight of wines from Zucca's past per couple and one free antipasto plate per couple. We will taste three years of Sorprendere and one Zinfandel from Zucca's past. Experience the aging potential of your favorite Zucca varietals and have the opportunity to take some home with you!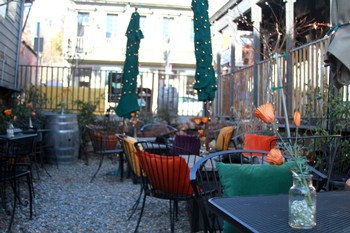 Rendez Vous en Paris 2015
May 16-29, 2015
What could be more perfect than 3 nights in Paris, 3 nights in Dijon, 3 nights in Lyon and 4 nights in Avignon? Adding 8 winery tours and tastings with two experienced winemakers! A detailed list of what is included in the price is available on our Adventures page.
Gary and Carol will be taking you on a two week adventure in France from May 16-29, 2015. Discover cities at your leisure or join the Zuccas on their explorations during free days. You will also enjoy great French food and learn from group wine tastings each night to discuss wine and daily adventures.
Taste Chardonnay from Chablis, Pinot Noir in a Burgundy style, Syrah from the Rhone and many more!
Savor the wine while appreciating the stories and facilities of small to large wineries hand selected by the winemakers, Gary and Carol.
Have questions?
Please email us at info@zuccawines.com or call Jody at 209.684.3278