Railtown Sip and ride benefit
Saturday, april 29th
On April 29th we'll continue our annual charity event at Railtown State Historic Park where we will visit the engines, hop on the train with wine and hors d'oeuvres for a scenic ride to view the wildflowers that are sure to be in full swing and party with more food, wine and music. All proceeds will be donated to the California State Railroad Museum Foundation who continues to keep our history alive by providing support to our own Railtown 1897 State Park and the California State Railroad Museum in Old Sacramento.
Tickets are $50 for wine club members and their guests (be sure to log in) and $60 for non-wine club members. Tickets are available on are website or call Jody at 209-684-3278.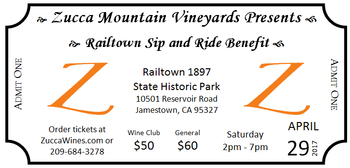 Admission includes wine tasting of old favorites and brand new releases, yummy treats to eat, a tour of the railroad roundhouse and an exclusive train ride in our very own private bar car to view the backyards of Jamestown and the lovely spring wildflowers. After the train ride we will head to the Carriage Room where we will be surrounded by the sounds of Spanish and Classical guitar, Bass and Percussion provided by the "one man band", Nicholas Lefler. Here you will also get a sneak preview of brand new vintages of your Zucca favorites and more to eat!
Double Gold and Gold from the sf chronicle wine competition!
The San Francisco Chronicle Wine Competition results are in. Our Papaveraceae won a Double Gold at the SF Chronicle Wine Competition with over 7100 entries this year and our Sorprendere won a Gold.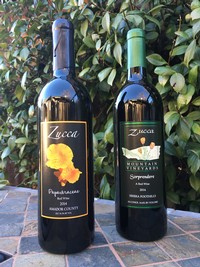 DOUBLE GOLD - Papaveraceae (Papa for short) is the botanical name for the poppy family and it reflects the spirit of family in the wine. It is a delightful combination of 50% Petite Sarah, 25% Zinfandel and 25% Sangiovese. We blended this wine especially for our wine club members and our "Papa" is available only to them. The beautiful label is also unique to this wine. We find rich aromas of cherry, and spices with flavors of dark cherry, tobacco, chocolate and spice. This is a big wine that can also be sipped by itself. We enjoy it on our patio overlooking the vineyards at sunset. What a life! We hope you enjoy it in your special place.
GOLD - Definitely a surprise (This word means "to surprise" in Italian). Our wine is a blend of Zinfandel, Syrah and Barbera in equal parts which showcases mysterious marionberry, plum, sweet almond and a touch of hazelnut upon first sniff. The flavors are subtle and smooth; the finish long and glorious.