Railtown Sip and Ride
Charity Train Ride
Saturday, April 25, 2015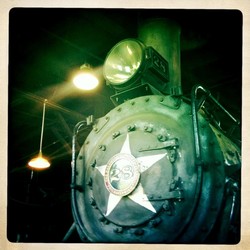 On April 25th we'll continue our annual charity event at Railtown State Historic Park in Jamestown where we'll hop on the train for a scenic ride to view the wildflowers that are sure to be in full swing.
Tickets are $35 per person or $25 for wine club members(make sure you log in). Admission includes a glass of wine, yummy treats to eat, a tour of the railroad roundhouse and an exclusive train ride in our very own private bar car to view the backyards of Jamestown and the lovely spring wildflowers. Once you have finished your first glass of wine additional glasses will be available for $5 each.
All proceeds will be donated to Railtown 1897.
For those of you who have not been to Railtown or are not familiar with the details, steam train #3 is the only continuously operating steam train left in the country and they have the oldest authentique roundhouse in the west. It has been featured in all the western movies that have a train.....and it's historical significance is huge.