Black friday port releases
Reserve Tawny port return & touriga Nacional port release - Nov. 29th
On Black Friday we will be releasing another 8 cases of the Reserve Tawny Port and introducing our 2012 Touriga Nacional Port!
The Reserve Tawny Port is 9 years in the making. The careful rotation of each vintage makes this Tawny an incredible sensory experience. Each bottle will be hand signed by the winemakers and numbered, packaged with a black bow. For $5 a taste, wrap your palate in a warm, velvety blanket of a well balanced mixture of tobacco, walnut, marzipan, sweet black tea, jam and vanilla bean. You are truely in for a treat!
Now you might be wondering, what is a Touriga Nacional Port? Touriga Nacional is a red wine grape, native to Portugal, is one of the most widely used grapes for red Port wine. The Touriga Nacional Port is lighter in color than our Syrah Port and has its own unique characteristics. Come in to the tasting room and let us know what flavors your palate picks up.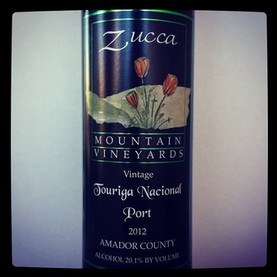 If you would like to be put on a list for the Reserve Tawny Port please contact Jody at jody@zuccawines.com or 209.684.3278
GREENHORN CREEK'S VINTNER MEMBER
It is almost here! Our month for Greenhorn Creek's Vintner Members is the beautiful month of December! During the entire month of December, Zucca wine will be featured at Camps Restaurant. Flights of Zucca wine are available daily and our Winemaker Dinner will be Thursday, December 19th.
The Winemaker Dinner is a four course meal paired with Zucca wines located in the Mark Twain Library of Camps Restaurant.