California poppies
We want to see yours!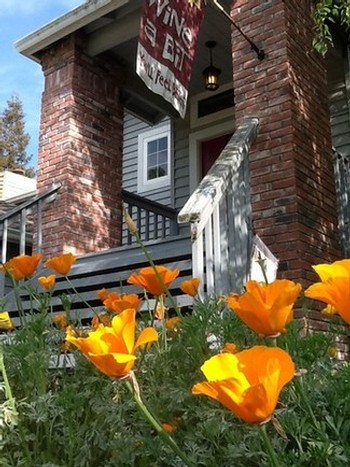 Karen S. gets to enjoy her poppies every time she leaves her house in Stockton, CA.
The California poppy, Eschscholzia californica, is the brand image for Zucca. From our label to our wine garden table displays, we love our state flower and how it represents the Sierra Foothills.
A purchase of a bottle of Zucca wine comes with a package of poppy seeds to spread in your garden or along the side of the road on your drive home. We have visitors come to Murphys from all over the United States and hear about our poppies growing in many yards. If you have received our poppy seeds or poppy flower, live in California or Michigan, we want to see your poppies!
Take your favorite photo of your poppies and send it to poppy@zuccawines.com with your name and location. We will share these photos on our website and Facebook with other member of our Zucca family. By sending us your photo, you give Zucca the right to use and share the photo.
Wine in a metal box
"Constructing a Winery from Salvaged Cargo Containers"
You may have heard that our winery consists of four recycled cargo shipping containers with a crush pad in the middle and a covered bottling line on the side.
Gary has written a case study, "Constructing a Winery from Salvaged Cargo Containers", detailing the benefits of using cargo containers as a small winery. The case study is featured both in print and online in the April 2014 edition of Wine Business Monthly, pages 80-83. Once we get our hands on a copy, we will also have the case study in the tasting room.

Gary at the bottling line in front of one of the cargo containers.