The blends and reserve syrah port are back
You have been patiently waiting and the time is finally here! The 2014 Sorprendere, 2015 Tesoro and Reserve Tawny Port have been released and are ready for you to take home.
Sorprendere 2014
Definitely a surprise (This word means "to surprise" in Italian). Our wine is a blend of Zinfandel, Syrah and Barbera in equal parts which showcases mysterious marionberry, plum, sweet almond and a touch of hazelnut upon first sniff. The flavors are subtle and smooth; the finish long and glorious.
Tesoro 2015
A versatile off-dry, oak-free wine, this blend of Zinfandel, Syrah, and Barbera can be enjoyed in many places: with a chat as an aperitivo, in a glass with dinner, or even as an after-dinner treat.
Reserve Tawny Syrah Port
Our Reserve Syrah port is 11 years of that greatness. Limited quantity bottled each year. Your senses are mesmerized with delicately presented tobacco, walnut, marzipan, sweet black tea, jam and vanilla bean. The finish is long and velvety with a touch of fumée. Just as the sea breeze chills and you thought it was time to turn in, you notice an essence of hazelnut that wraps you up like a blanket to watch the moon rise.
July 16th, 2016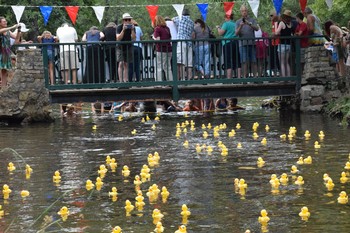 The new and improved 68th Murphys Homecoming will be Saturday, July 16. From 8 a.m. to 9 p.m. there will be activities for all the members of the Murphys family, old timers and newcomers alike, young and old.
"We want this to be a fun-filled family oriented event that is tailored for the wonderful people who live in the Murphys area and their friends," states Community Club President Sue Friedman. "We are encouraging people, who are so inclined, to come in vintage attire suitable for this historic gold rush town."