Carol and Gary's Retirement to Spain
Postponed due to the Coronavirus

Our Tasting Room is closed but
winter WINE CLUB ships december 8th
we are bottling the 2018 vintage now in barrel
to be available in december for our winter Wine club Shipment
to include zinfandel and sorprendere
Call Keri at 209-352-1114 to place an order or for information or email her at keri@zuccawines.com
Check out the available new wines on this site in november 2020
while the supply lasts
shipping included 6 bottless or more
Super discounts of 40%
(50% Wine Club when logged in)
for our special Zucca family of friends to enjoy the last of the Zucca wines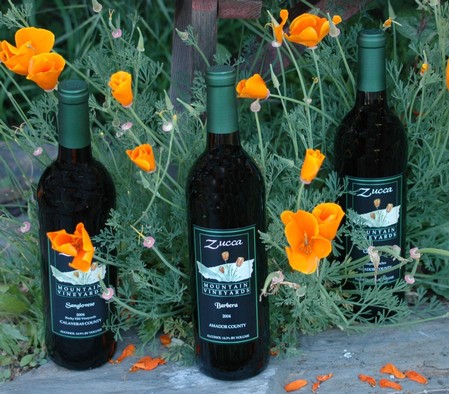 We want to thank everyone for your support
during our 23 years of making wine.
We are retiring to Valencia, Spain as soon as a vaccine is developed for the Coronavirus.
Also we still have wine in our barrels (2018) and tanks (2019).
We decided to bottle it to give you all the opportunity to have a little more Zucca at a super price.
The 2018 vintage will be available after November of 2020
The 2019 vintage will be available in July 2021
After 2021, there is no more so enjoy now
winter Wine club ships december 8th

THe 2018 vintage wines will ship in December, 2020
Call Keri at 209-352-1114 or
email her at keri@zuccawines.com for more information
OUr tasting room is closed
so there is no pickup but shipping is included in the sale price for 6 bottles or more
Garden is closed
Keep in touch!