Carol and Gary's Retirement to Spain
Postponed until 28 September 2021
we will go then since the covid is getting under control and we have our vaccines

Our Tasting Room is closed but
spring WINE CLUB ships in may
we have bottled the 2018 vintage
available on-line now and our spring Wine club Shipment
to include barbera and primitivo
Call Keri at 209-736-2949 to place an order or for information or email her at keri@zuccawines.com
while the supply lasts
shipping included 6 bottles or more
Super discounts of 40%
(60% Wine Club when logged in)
for our special Zucca family of friends to enjoy the last of the Zucca wines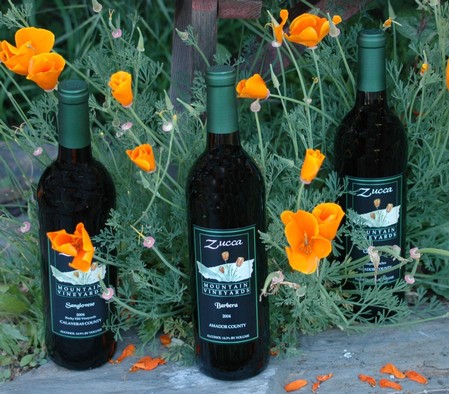 We want to thank everyone for your support
during our 25 years of making wine.
We are retiring to Valencia, Spain. We have our vaccine shots and will be leaving the 28th of September 2021
Also we still have wine in our barrels and tanks.
We decided to bottle it to give you all the opportunity to have a little more Zucca at a super price.
The remailder of the 2018 vintage is available now on this website
After these wines are gone, there will be no more so enjoy now
spring Wine club ships in may
Just in time for your spring enjoyment. Have a great year!!

The 2018 vintage wines will ship in May, 2021
Call Keri at 209-736-2949 or
email her at keri@zuccawines.com for more information
OUr tasting room is closed
so there is no pickup but shipping is included in the sale price for 6 bottles or more
Garden is closed
Keep in touch!